THE NEW ELAN VOYAGER: THE WORLD'S FIRST FULLY FUNCTIONAL, FOLDING, ALL-MOUNTAIN SKI.
This article was edited using InstaText AI editor:
InstaText Intelligent Editor - Limited Offer
20% off original price - InstaText is AI-powered writing and editing tool for business, academic and private use.
9,99€
Elan has reaffirmed its status as the ultimate innovator in skiing, changing the sport and thrilling users of all ages and levels with revolutionary solutions. This year the Elan Voyager folding ski has received the most prestigious design award of all, the "Red Dot Best of the Best".
Elan Skis received their first Red Dot Award in 2007. Since then, the award count has increased to eleven. "Fourteen years ago, we received our first Red Dot Award. Over this time, we have developed a recognizable design language for our products; one infused with innovation, technological perfection, and functional design. Our brand strategy is a major element of our design philosophy and helps set clear design objectives. That is why our products share a common goal – they are first and foremost aimed at improving the experience of their users, so each new product can bring something new, even revolutionary," said Global Brand Director Melanja Korošec.
Elan Voyager, the world's first folding all-mountain ski, has stirred up the world of skiing. Launched only a short time ago, it has already won three prestigious awards: Red Dot "Best of the Best", Plus X, and the ISPO Gold Winner Award.
Red Dot is one of the largest and best-known international product design competitions. This year Elan stood in the company of about 7,800 submitted products from more than 60 countries.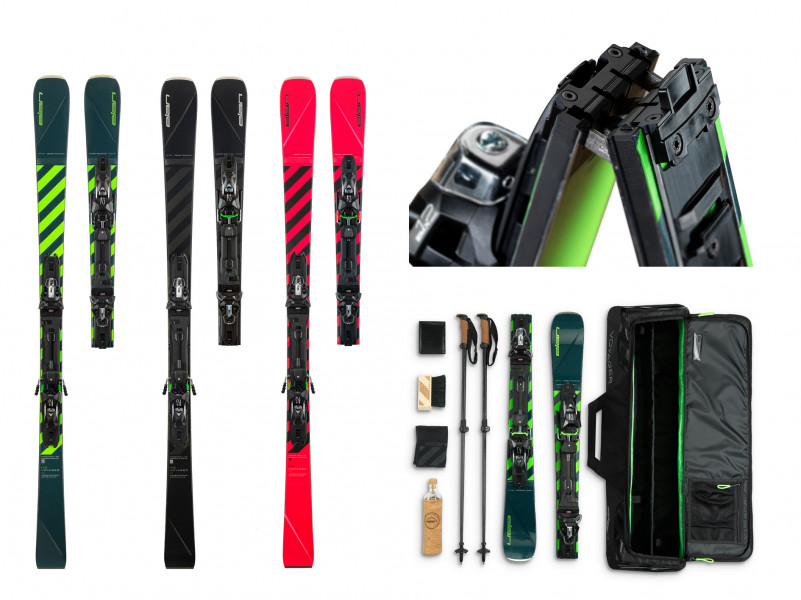 "Function, intuition, and sustainable quality were our primary guiding design principles. The folding function, a first in the world of skiing, is an important element in this context. Folding is enabled by a special mechanism that is completely unaffected by snow and ice. Components are designed to withstand years and years of use and an unlimited number of repetitions. Part of the inspiration for certain design elements came from the world of aviation," added Melanja Korošec.
The Voyager brought Elan its first Red Dot "Best of The Best Award", the most prestigious award reserved for products whose purposeful and refined design far surpasses the limitations of their category.
As the first folding all-mountain ski, the Voyager fulfills a long-time dream of creating a folding ski that functions exactly the same as a classic (non-folding) ski while adding a significant advantage – mobility. These skis are designed to meet the challenges of life in the fast lane.
Their secret lies in the revolutionary Connect Technology, an advanced interlocking mechanism that fixes two halves of the ski into a single, coherent whole. A carbon-fiber binding plate on top of the ski connects the ski and provides an excellent response, stability, and edge grip.
When folded, the Voyager fits into a custom-designed bag with enough space left for all your skiing luggage. The size of the bag fits airline standards and can be checked as regular baggage. The Voyager is the perfect companion when traveling by plane, train, or car. In fact, the bag and everything you need for a day of skiing fits into just about any office corner.
"Skis are essentially designed as a unified composite element. Traditionally that is the only way for skis to achieve desired performance characteristics. The decision to split skis in half presented us with a major engineering challenge, but we never compromised or steered away from the goal of creating a folding ski that performs exactly like a traditional ski. We learned a lot from the Ibex Tactix folding touring ski project that was aimed particularly at the defense industry. However, there was still much research and study needed in materials and technologies before we achieved a result that fulfilled our stringent standards. The Voyager utilizes a proprietary four-axis mechanism and rotating plate," says Vinko Avguštin, Head of R&D at Elan.
Next to the Red Dot Award, the Voyager also received the Plus X Award which is recognized as the leading global award in the field of sports, technology, and lifestyle. It honors products for their cutting-edge innovation, quality, superior design, simplicity of use, functionality, and ergonomics. The Voyager also received recognition at ISPO, the world's largest sports equipment fair in Munich. An independent international jury honored the Voyager with the prestigious "ISPO Gold Winner Award". In their substantiations, both award juries praised the exceptional level of technology and innovation that make the Elan Voyager a major breakthrough in the world of skiing and traveling.
Republished from Elan webpage.
Extended Video: