📣The COVID-X Open Call #1 received in total 112 applications
This article was edited using InstaText AI editor:
InstaText Intelligent Editor - Limited Offer
20% off original price - InstaText is AI-powered writing and editing tool for business, academic and private use.
9,99€
COVID-X Program is a European initiative for digital innovation supported by the European Commission under the Horizon 2020 Program. It tackles the clinical challenges of COVID-19 related to diagnosis, prognosis and follow-up of patients with data-driven technology solutions.
The goal of the COVID-X Open Calls is to select 30+ technology providers that obtain 4M€ of equity-free funding, join the COVID-X Acceleration Program and benefit from COVID-X Sandbox. The offered support aims at driving the selected data and AI solutions faster to the markets serving the European healthcare systems.
Ideas will be fast-tracked to market, launching their EXPONENTIAL impact to save hundreds of thousands lives .
A 10-month Program with x3 Sprints
The Open Call #1, running from early December until the 27th of January 2021, attracted applications from a varied range of Start-Ups and SMEs around Europe, and beyond.
112 final submitted applications.
29 countries
58 single solutions
54 team solutions
During February, external evaluators process the evaluation of all applications, and the selected projects are announced in March. Stay tuned to COVID-X social media channels & website to receive all project news!
Open Call #2 is to be announced within the forthcoming months.
You can apply here: https://www.covid-x.eu/apply-now/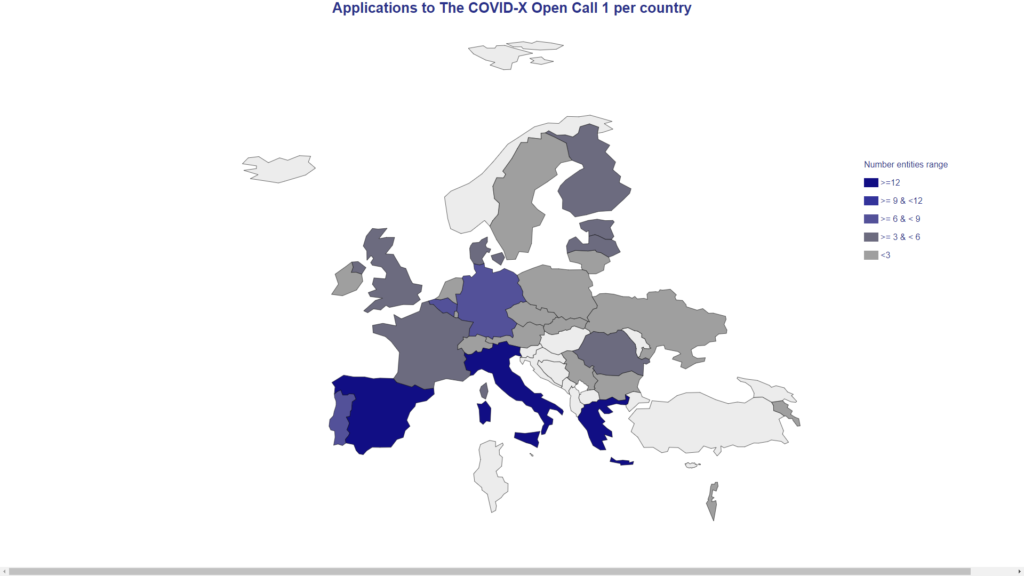 Republished from covid-x.eu website. Covid X is co-funded by the European Commission.